1.Perfect system management
The enterprise adopted the ISO9001:2008 quality system, the ISO14001:2004 environmental management system, the OHSAS 18001:2007 occupational health safety control method of three-in-one system authentication. Meanwhile it obtained the certificate of QS authorized by AQSIQ, the hygiene licence of enterprises producing disinfected products. In 2015, it was adwarded the title of 'National Quality Honesty Demonstration Unit' by CAQI.
2.Perfect process control
During the whole quality control system,we mainly set up 3 control points: incoming material quality control, in-process quality control, and the final quality control.
3. Powerful Testing Ability to Escort The Products
Our corporation have professional technical testing center,owns more than 20 kinds of instruments,including tension testing machine,membrane stripped testing machine,ageing resistence testing machine,and so on, which can do the physical & chemical test on the products. Compared with third-party inspection report, the detection ageing shortened from 4 days to 2 days.
And we also have cooperation and consultancy services with these government departments:
Fujian Provincial Bureau of Quality and Technical Supervision
Fujian Provincial Health and Family Planning Commission
Fuzhou Municipal Health and Family Planning Commission
Fujian Institute of Standardization
Fujian Inspection and Research Institute for Product Quality
Fujian Center For Disease Control & Prevention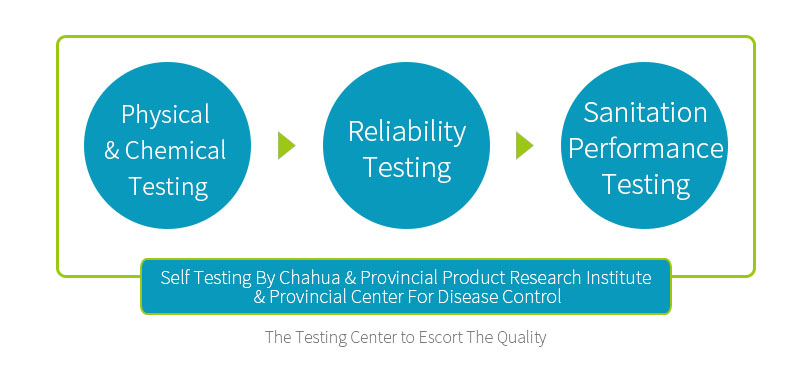 In view of different products, we strictly follow production license of national industrial products,hygiene license of disinfection products,as well as national standard,industrial standard and enterprise standard. All products are sent to third-part every season for physical and mechanical properties test,hygiene performance test and ensure that the content of plasticizer is within national standard.
Quality Forever, CHAHUA Forever, we strive together for a better tomorrow and prosperous CHAHUA.